ROCKY MOUNTAIN ELK:
Some of the elk hunts are on private ranches so you'll have a guaranteed hunting tag. However, if you prefer, we offer back country hunts that can be applied for in the state draw. If you prefer to draw a certain area, please contact us 30 days prior to sending in your application so that all legal paperwork can be completed. In the last ten years, many elk have migrated out of the higher mountain ranges and are now in the lower elevations. Trophy elk are found in the sagebrush and pinon/cedar hills of our northeastern NM ranch leases. Finding and killing 300 to 350 point Boone & Crockett bulls are not uncommon. There are many different dates that can be hunted. Please contact us to see what dates will fit your schedule.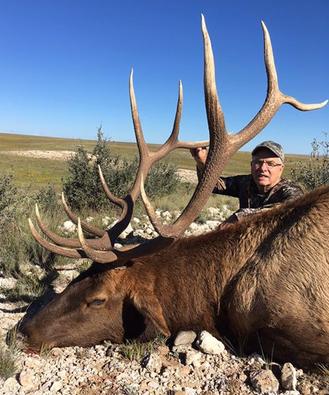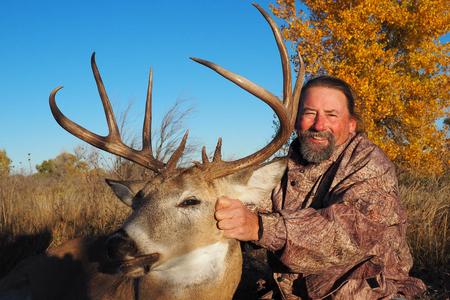 ​​​WHITETAIL & MULE DEER:
Mule Deer and Whitetail Deer are usually hunted during the same hunt periods in New Mexico. These deer can be hunted either on our private ranches or during the state draw hunts. Clients usually have many opportunities to take home a great trophy. Months prior to the hunt, our guides are constantly scouting the ranches and state land so that when deer season opens, they are ready to put you on some great deer.
ANTELOPE:
We hunt on private ranches so there is no need to worry about the draw from the Game & Fish Dept. If you prefer a draw, please contact us 30 days prior to applying so that we can do the correct paperwork required by the state of New Mexico. You can expect to take a trophy antelope ranging in length from 13.5" on up to 16" plus. Boone and Crockett trophy scores seldom come from the longest length. Antelope hunts are 3 day hunts in mid to late August.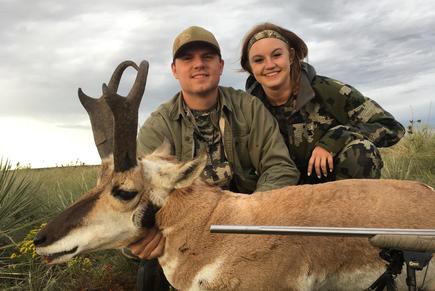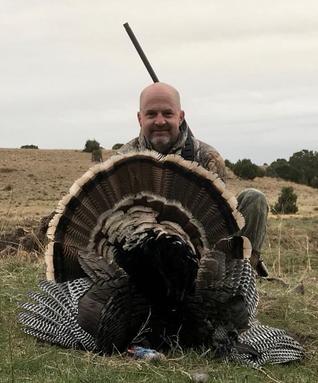 TURKEY:
The turkey on our private land leases are the Merriam and Rio Grande species. We are proud to offer the chance that two different sub-species can be harvested during the same hunt. We offer a great opportunity for clients to take two bearded birds during the spring season. All accommodations including meals are included in this fun and exciting hunt. Any shotgun, including muzzleloading shotguns using shot only; Bow and arrow are allowed to be used as well. No centerfire or rimfire rifle or handgun use is allowed on turkey hunts.
BEAR:
Bear season opens around the middle of August and closes when the unit's quota is full or on November 15th, whichever comes first. We have a variety of color phases of the black bears but most commonly in the cinnamon color. Bears range around 225-300lbs! These hunts are generally a spot and stalk type hunt.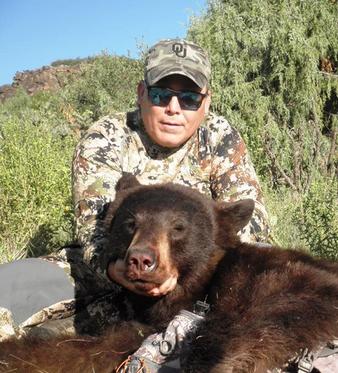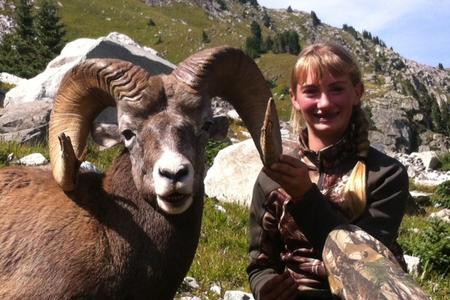 ROCKY MOUNTAIN & DESERT BIGHORN SHEEP:​Bighorn sheep hunts are state draw hunts only. These hunts are a once in a lifetime hunt, meaning that you can only draw a tag once in a lifetime for each species. These hunts are a back country hunt therefore, packing in by horseback is a must. During these hunts, we will be staying in a tent camp several miles back in the wilderness at elevations between 10,000-12,000 feet! Bighorn sheep hunts are by far the most challenging and exciting due to the rough terrain and high elevation.
MOUNTAIN LION:
Mountain Lion hunts generally take place starting in November and run through February. The best hunts are going to be when the ground is snow covered. On these hunts, we use a group of lion hounds to track and tree the lions. We also have UTVs with tracks to help get through the snow. Mature toms are going to average about 140 plus pounds!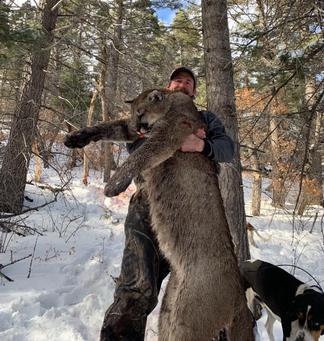 Hunting is normally done by spot and stalk. We begin by searching for game by driving 4x4 vehicles and then planning the stalk. Much time is spent glassing the hunting areas. Your experienced guide will know where the trophies have been spotted and many hunts are finished early the first day. If you have a particular animal in mind, we will spend the whole hunt trying to help you take the trophy of your dreams.
Hunters should be able to stalk game for short distances and efficiently shoot 250 to 300 yards. Although this is preferred, we will accommodate hunters within their capabilities. Archery and black powder hunters can be easily accommodated, if that is your preferred weapon during a legal season. There is much to see and do in our corner of the state and if you do finish your hunt early, you might want to try your luck at hunting coyotes or prairie dogs, or just sightseeing around this beautiful Land of Enchantment. Volcanoes and dinosaur tracks are just a few of the things to see here in northeastern New Mexico. Children can hunt in NM if they have a Hunters Safety card.
Non-hunters are welcome to attend your hunt or stay at our lodge and sightsee while you hunt, if
not riding along with you. Standard non-hunter charges are $150.00 per day.